Everyone can get a coil (otherwise known as an intrauterine device or IUD) from us, it is not necessary to have been pregnant or be a previous client. You are always welcome for an informative consultation and an appointment to have your coil placed. Please note: if you have insurance with DSW, you will have to pay a personal contribution of € 21,14.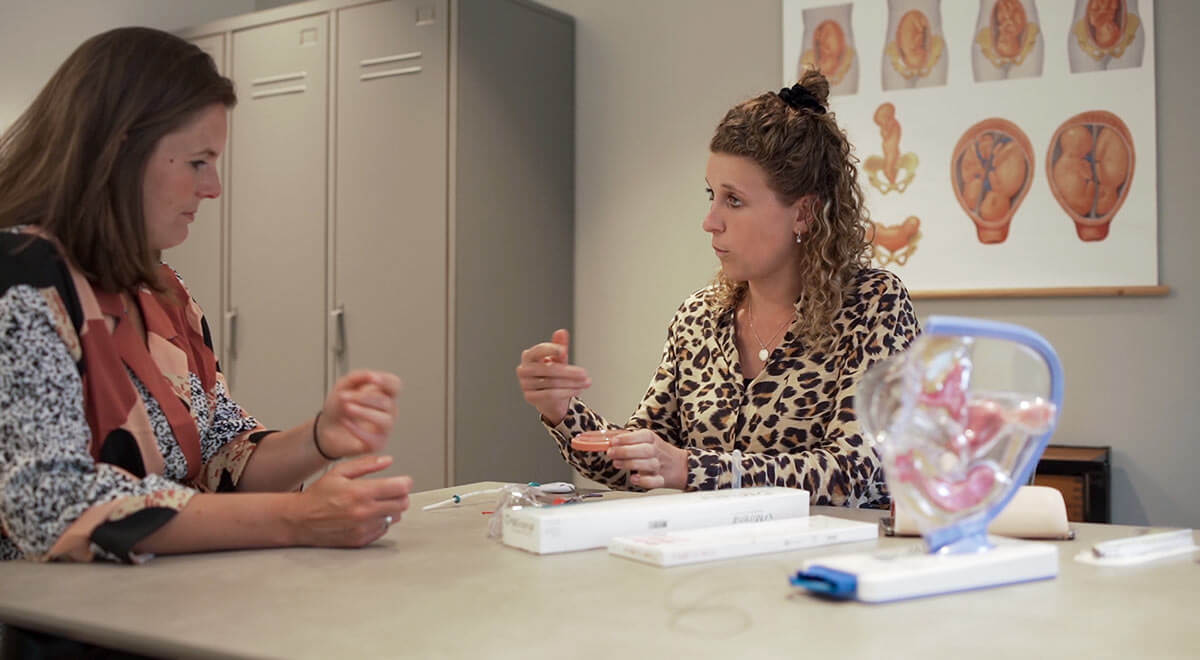 What exactly is a copper coil?
T-safe is the most common coil made with copper in the Netherlands, and offers protection against becoming pregnant for 10 years. A copper coil does not contain hormones, so it is suitable if you cannot or do not want to get hormones in your body. The copper coil is a piece of plastic in the shape of a 'T' or in the shape of a horse shoe, with a copper wire around it. The Ballerine coil consists of 17 copper balls, strung on a flexible frame. Within the uterus, this frame will curl into a ball.
There are two little strings on the copper coil that hang from the cervix. This is necessary for the removal of the coil.
The coil with copper is a method without hormones. This means that you will keep your own natural menstrual cycle. The first menstruations can come a little earlier than normal, they can be more painful or they can take a little longer. Usually, you will also bleed a little more heavily during these menstruation periods. After 2 or 3 months, you menstrual cycle will most likely be back to how it usually is. With a copper coil, you cannot move, delay or "time" your menstruation period.
A copper coil has to be replaced or removed every 10 years. You can also have it removed earlier, if you want to get pregnant again, or if you want to switch to another contraceptive. In order to remove the hormone coil, we pull the strings to carefully pull the spiral out of the cervix. Never do this yourself! After the copper coil has been removed, you can get pregnant again rather quickly. Or we can place a new one, so that you will be protected for another 10 years.
The copper coil is a very reliable contraceptive, the chance of getting pregnant is almost nil (reliability >99%).
Advantages:
- Very reliable contraceptive
- No worries about contraceptives for 5-10 years
- Removal whenever you want
Disadvantages:
- Menstruation cannot be 'timed', You have no influence over your menstruation
- Sometimes more blood loss or more intense menstruation
- Sometimes more pain in your stomach or back during your menstruation
Placing a copper coil
It takes a few minutes to place a copper coil. Placement can be a little unpleasant for a short moment, you may feel your uterus cramp up during the measurement of your uterus or during the placement of the coil. The placement is done with a speculum. If you have recently given birth, the placement is usually painless.
We can place a coil from 10 weeks after childbirth.
When your coil has been placed you can go home right away, you may just experience some cramps for the rest of the day. Your coil will usually work right after placement, if placement was done 7 days after the start of your menstruation period. You may experience some bleeding during the first few days, this is normal.
There are 2 options:
| | |
| --- | --- |
| T-safe | Ballerine |
| Very reliable and commonly used contraceptive method. More copper material. | It seems reliable, but it has only had two relatively limited tests. Less copper material, so there may be a higher chance of pregnancy. |
| Sometimes more intense menstruation | Not a lot is known about side effects, very suitable for women who have never given birth before, because of its thin application shell. |
| 10 years of protection | 5 jaar bescherming |
| € 71,- euros | € 119,- euros |