Breastfeeding is the best option, for you and your baby. It creates a bond between mother and child. Breastfeeding is really your time. Breastfeeding is different for every woman. For some women, the milk starts flowing quickly, and others need to put in a little more effort. It helps to be prepared. If you know what to expect, you will not get unpleasant surprises, and you may be motivated longer. We see the advantages of breastfeeding, but we also think it is important that you do what feels good for you.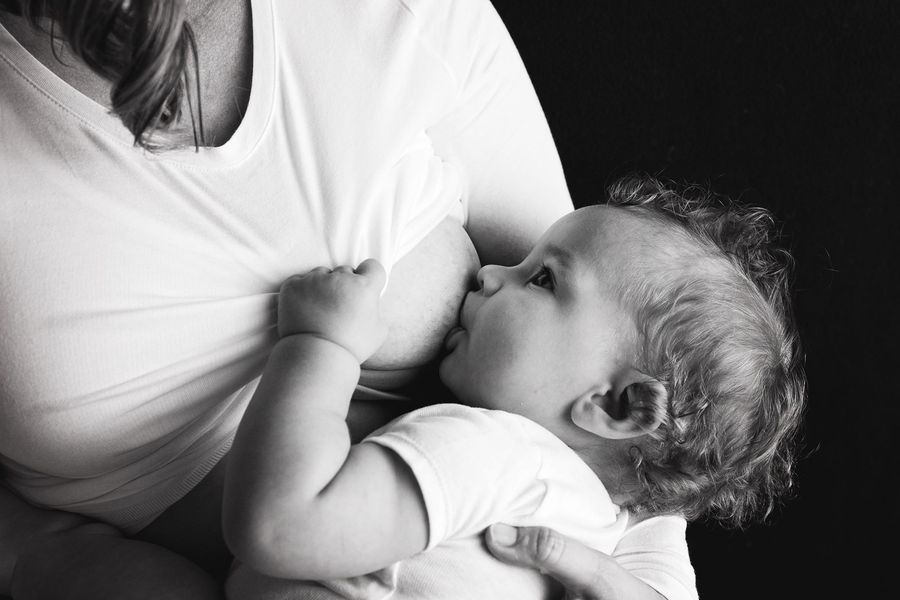 Advantages of breastfeeding:
For your baby:
Breast milk consists of the right components, that will
change as your baby gets older.
Breast milk contains a lot of antibodies, so that your
baby will have stronger immunity.
Children who have had breast milk, have less risk of
allergies, cardiovascular diseases and diabetes when
they grow up.
For yourself:
Quicker weight loss after childbirth.
So you will get back to your old weight faster.
Less chance of breast cancer when you get older.
Easy, because you will always have breast milk
with you, at the right temperature.
Chapped nipples
If you are breastfeeding, it is possible that you will get chapped nipples. This is very unpleasant and it can be very painful. Your maternity assistant will have a few tips to help your nipples heal more quickly. One of these tips is to rub a drop of breast milk into the nipple. Aside from this, we offer Rite Aids at our practice. These will soothe sore nipples right away, and help them heal. They will protect the skin against bacterial infections and sore dehydration, and form a cooling and pain relieving layer. They absorb excess wound discharge and gradually let it evaporate. This will create perfect circumstances to let the wound heal. When you remove the rite aid, no residue stays behind on the skin, so you can let your baby drink again right away. They can be used for 24 hours. The costs for 2 rite aids are one 1 euro. You can also order them online from lactation specialists.
Sometimes you will get chapped nipples because your baby has a tongue-tie. You can tell that this is the case if they cannot stick their tongue out properly, or get it over their lower jaw. Their tongue may also be heart-shaped. If you have any doubts about whether or not your baby has a tongue-tie, please let us know. Our colleague Annelies can sever it for you, if you want. For more information, go here.
Helpful websites:
Vereniging Borstvoeding Natuurlijk: www.borstvoedingnatuurlijk.nl
Breastfeeding organisation La Leche League: www.lalecheleague.nl
Collaborative breastfeeding organisations: www.borstvoedingsforum.nl
Dutch association of lactation specialists: www.nvlborstvoeding.nl
Vereniging Zorg voor Borstvoeding: www.zorgvoorborstvoeding.nl
Lactation specialist Vlaardingen: www.lactatiekundigepraktijkvlaardingen.nl
Breastfeeding cafe in Vlaardingen
We would like to invite you to the breastfeeding cafe, every first Friday of the month. Here you can share you expectations, stories and experiences related to breastfeeding with us. Do you know other mothers who breastfeed their babies (or want to) and need some fun and support? Then you should invite them! Everyone who is interested is welcome, and older children are welcome too.
Yvonne de Bruin and Naomi will be there as host and lactation specialist, to answer personal questions about breastfeeding.
You can welcome between 10.00 and 11.30 at the location of Kindcentrum de Villa, Baarnhoeve 2 3137RL Vlaardingen
What can you expect from our breastfeeding care?
During your pregnancy, we will also prepare you for giving your baby breast milk. We will give you information about the difference between breastfeeding and bottle feeding. This way, you and your partner can make an informed decision. Also look at information from breastfeeding organisations. Right after childbirth, your baby will lie against you with his or her body. We will make sure that your environment is peaceful, so that you as parents can really enjoy that first hour together. Your new-born baby will feel your warm skin, and usually he or she will automatically start looking for your breast. Those first little sips are very important.
Your baby can stay with you day and night, and we will give you information and support, so that you can both get used to the process of breastfeeding. Practically all women are able to produce more than enough breast milk. The baby may drink as much as he or she wants, and during the first week, babies want to drink often. This way, the breastmilk will start to flow nicely. Because the more often you feed your baby, the more milk you will produce. You should also feed your baby long enough. Supplementary feeding is almost never necessary.
We will explain what position is the most comfortable for breastfeeding, and how you should hold your baby. Pain is not part of it. It is a sign that you need help to enjoy the breastfeeding process. So you should ask for advice. Sometimes babies need special care, and in that case you will have to be away from each other temporarily. In that case, we will help you pump your milk.
Young babies can become confused by a pacifier or a bottle. In that case, they may have more difficulty with breastfeeding. That is why our advice is to refrain from giving your baby a pacifier or bottle for now. If you give your baby a pacifier, your baby will also look for your breast less often.
After the end of your postnatal period, the consultation clinic will provide you with support for breastfeeding. We will also give you information about breastfeeding organisations. At these organisations, there are women who have fed their own children and received additional training, so that they can answer all kinds of questions.
After a while, breastfeeding is pleasant and easy for most women. Together with UNICEF and the WHO, we advise you to only give your baby breast milk for the first six months. Afterwards, your baby will need other food as well. You can continue breastfeeding as long as you and your baby want.
Bottle feeding
If you cannot breastfeed your child, or do not want to, there are a few brands of formula milk. There are no big differences between the brands, so it does not really matter which brand you buy.
Please note, if there are any allergies in your direct family, meaning: you, your partner, your son or daughter, we advise you to give your baby breast milk. If you do not want to, you should buy hypoallergenic formula for your baby. Aside from breast milk, this formula reduces the risks of allergies the most.